Quand le consommateur devient producteur (de soi)
This paper identifies the mechanisms that have gradually made the consumer an active participant in the process of producing commodities, especially regarding intangible goods. The latter are specific in that their value is highly uncertain, and socially constructed. While institutional spheres have long played the central prescriptive role as cognitive authorities, now communities of consumers -who broadcast and share their views and comments- contribute more and more to the production of commodity value, thanks to new affordances of digital networks to foster visibility. Meanwhile lower entry barriers expand the circle of creators by including amateurs hoping to build their own reputation. Cultural and creative activity becomes a resource to construct one's personal value in the digital space.
Ce texte identifie les mécanismes qui ont peu à peu fait du consommateur un acteur des processus de production des biens, en particulier des biens immatériels. La valeur de ces derniers est hautement incertaine et si pendant longtemps les sphères institutionnelles ont joué un rôle prescriptif central, des communautés de consommateurs, qui échangent et partagent leurs avis et commentaires, contribuent de plus en plus à la production de la valeur des biens, et ce grâce aux nouvelles opportunités de mise en visibilité offertes par le réseau. En même temps, la baisse des barrières à l'entrée permet d'élargir le cercle des créateurs en y intégrant des amateurs, qui cherchent à construire leur propre réputation. L'activité créatrice et culturelle devient une ressource pour définir sa valeur dans l'espace numérique.
Fichier principal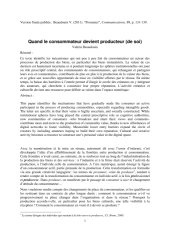 BEAUDOUINProsumerCommunications88-2011.pdf (141.38 Ko)
Télécharger le fichier
Origin : Files produced by the author(s)